Essential Greens Superfood
Enhanced Nutrient and Energy Support, Superfood Blend
Provides Superfoods B-vitmains, and botanical extracts for enhanced wellbeing
35 Natural ingredients
With Prebiotic fiber
Share
View full details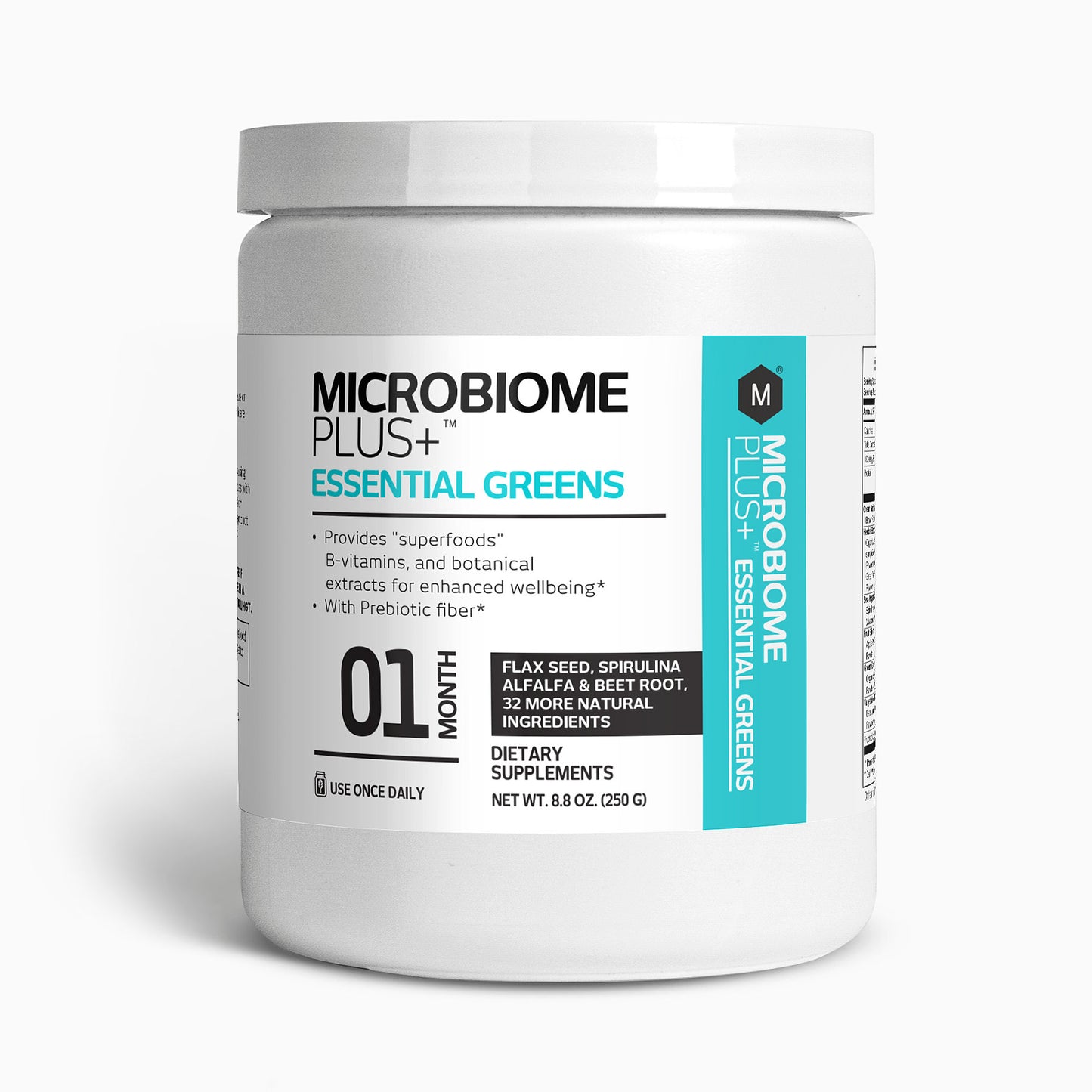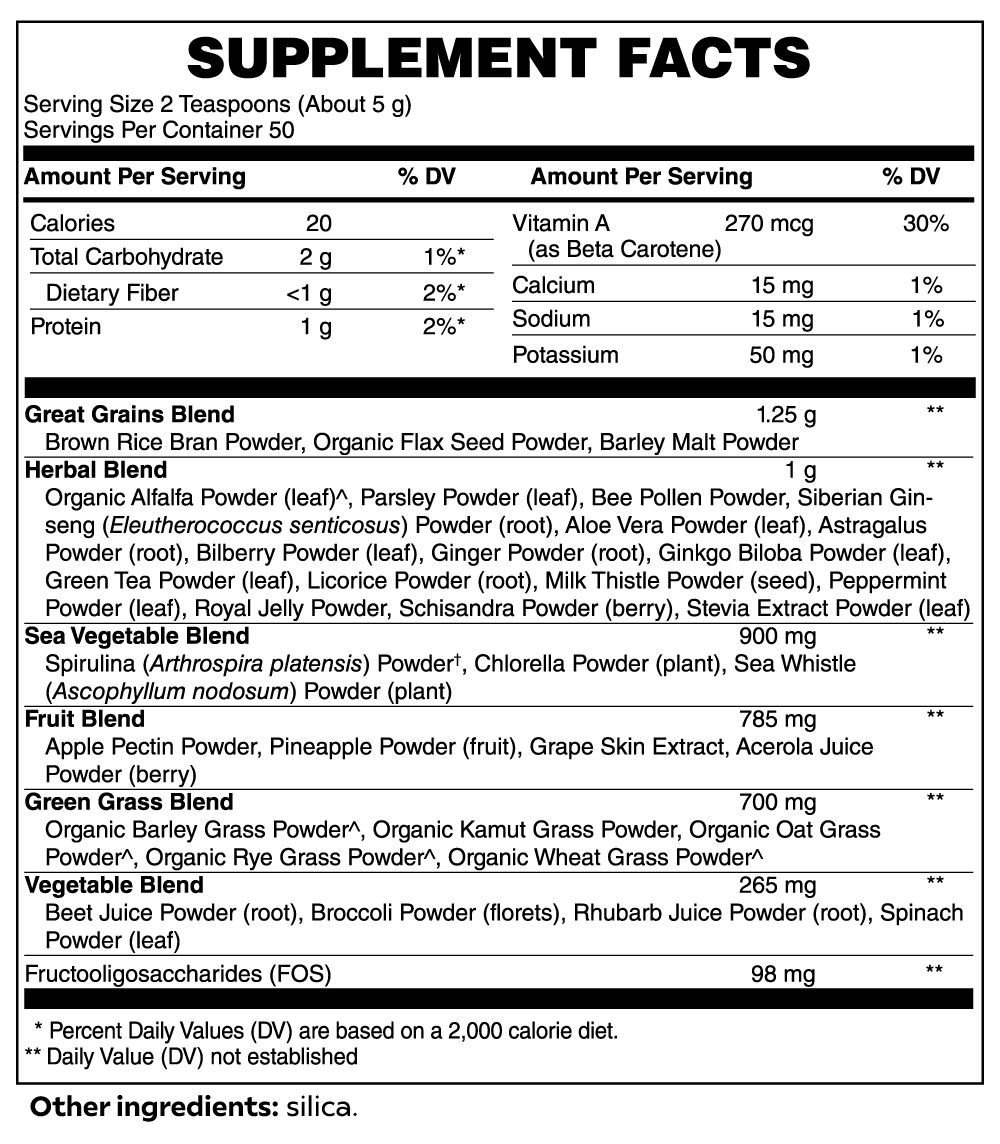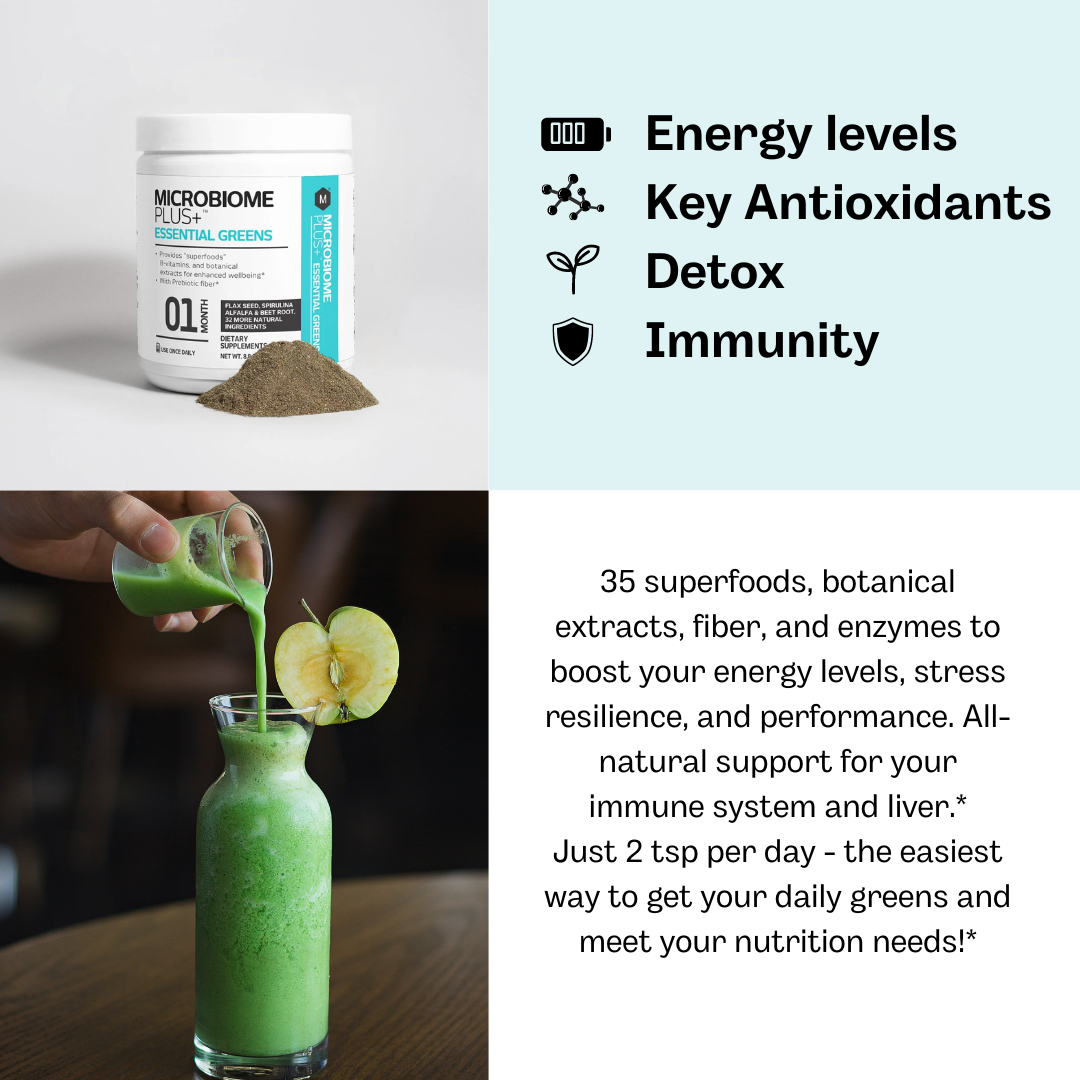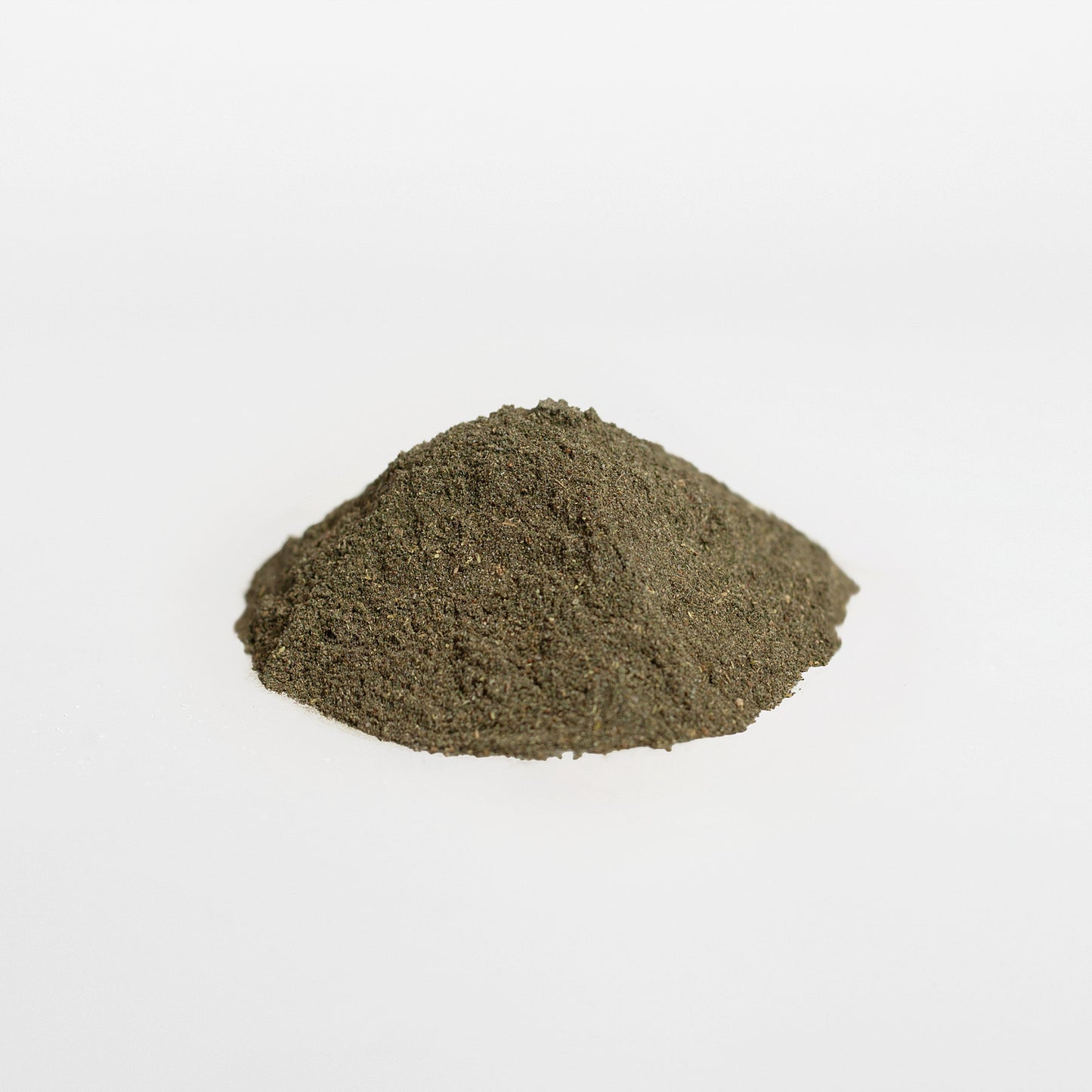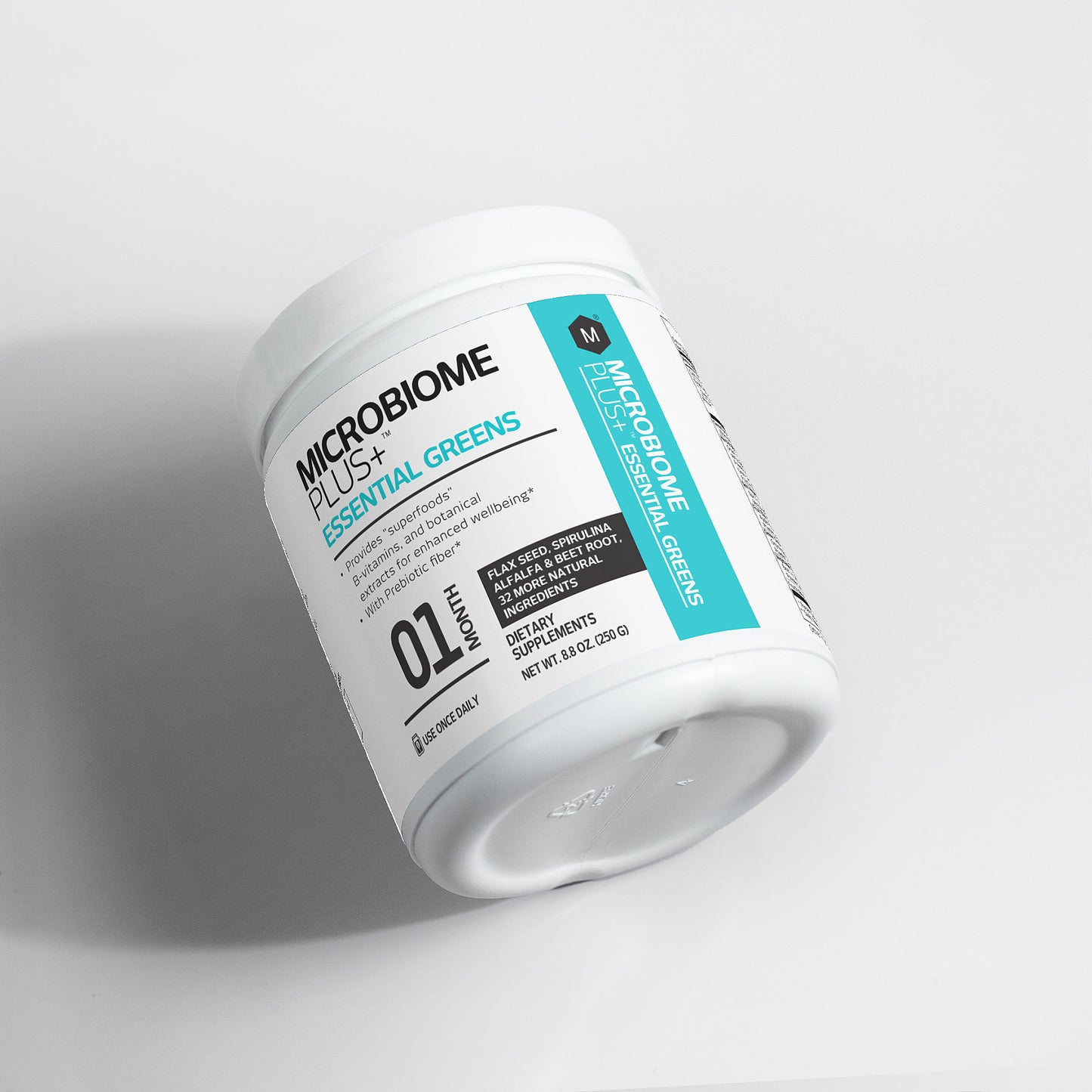 Essential Greens Superfood (Spirulina, Wheat Grass, Barley, Fiber)| Microbiome Plus+
Microbiome Plus+ Essential Greens Superfood is a blend for those who want to become the healthiest versions of themselves!*
35 carefully selected, easily digestible, 100% natural ingredients* 

Provides superfoods, B vitamins, minerals, botanical extracts, and prebiotic fiber*

Boosts energy, stress resilience, and general well-being*

Supports immunity and healthy liver detox*
Net Wt. 8.8 oz. (250g) 50 servings
About this product
Details 
Ingredients
Great Grains Blend 
Brown Rice Bran Powder, Organic Flax Powder, Barley Malt Powder
The Great Grains Blend provides prebiotic fiber and B vitamins.*
These heart-healthy natural whole grains help support normal blood sugar and cholesterol levels.*
Herbal Blend 
Organic Alfalfa Powder, Parsley Powder, Bee Pollen Powder, Siberian Ginseng Powder, Aloe Vera Powder, Astragalus Powder, Bilberry Powder, Ginger Powder, Gingko Biloba Powder, Green Tea Powder, Licorice Powder, Milk Thistle Powder, Peppermint Powder, Royal Jelly Powder, Schisandra Powder, Stevia Extract Powder
The Herbal Blend contains immune-boosting, digestive, liver-supportive, antioxidant, and adaptogenic herbs.*
This unique botanical mixture helps support enhanced energy levels and increased stress resilience while giving your immune system and natural liver detox a boost.*
Sea Vegetable Powder 
Spirulina Powder, Chlorella Powder, Sea Whistle Powder
The Sea Vegetable Powder packs easily digestible, nutrient-dense sea greens for general well-being and antioxidant defense.*
Spirulina is a blue-green seaweed that has been clinically researched for supporting immune health. Spirulina may help fight viruses, improve the gut microbiome, and contribute to normal histamine levels and an anti-allergic response. It's high in protein, vitamin B12, beta-carotene, iron, and other minerals.*
Chlorella is another nourishing seaweed that has been through clinical research for supporting normal total and LDL cholesterol levels, normal blood sugar levels, and overall heart health. It's high in many nutrients and vitamins, including vitamins D and B12 that are otherwise hard to find in plant-based foods. Plus, it packs iron and folate.*
Sea whistle is a mineral-rich brown seaweed that acts as a prebiotic and metabolic balancer.*
Fruit Blend
Apple Pectin Powder, Pineapple Powder, Grape Skin Extract, Acerola Juice Powder
The Fruit Blend sources four powerful fruits rich in antioxidants and vitamin C for enhanced immune and gut support.*
Green Grass Blend 
Organic Barley Grass Powder, Organic Kamut Grass Powder, Organic Oat Grass Powder, Organic Rye Grass Powder, Organic Wheat Grass Powder
The Green Grass Blend is 100% organic, specially formulated to boost natural detox, immunity, and nutrient status.*
This blend provides essential amino acids, active enzymes, antioxidants, and many minerals and vitamins.*
Wheatgrass helps support a healthy anti-inflammatory response and normal cholesterol and blood sugar levels.*
Vegetable Blend 
Beet Juice Powder, Broccoli Powder, Rhubarb Juice Powder, Spinach Powder
The Vegetable Blend concentrates the most powerful, antioxidant-rich vegetables for optimal health and better nutrition.*
Beetroot is among nature's most nutrient-dense veggies, packed with essential nutrients like folate (vitamin B9), manganese, potassium, iron, and vitamin C. Beetroot juice helps support healthy blood flow, normal blood pressure, and increased exercise performance.*
Broccoli is rich in vitamins, minerals, and glucoraphanin—a well-researched active compound that your body converts into a powerful antioxidant during digestion.*
Rhubarb juice powder is high in anthocyanins—red-colored antioxidants that boost immune, heart, gut, and metabolic health.*
Fructooligosaccharides (FOS)
Fructooligosaccharides (FOS) are well-researched prebiotic fibers that fuel your good gut bacteria, supporting a balanced and functional gut microbiome.*
FOS also helps the body absorb minerals and contributes to normal blood cholesterol and triglyceride levels.*
Other Ingredients
Silica
Flavor:
Microbiome Plus+ Essential Greens Superfood tastes of herbs, vegetables, and fruits. It has a pleasant herbal flavor. It also contains aromatics like peppermint and naturally sweet herbs like licorice. 
ICONS
Product Description
2 Tsp. of Our Concentrated Superfood Blend To Get All Your Daily Greens 
A unique and natural blend of concentrated superfoods, plus adaptogenic herbs, fiber, and enzymes.*
We've made sure to source only pure and science-backed ingredients providing you with the most potent, all-around, premium superfood blend. Discover 35 carefully selected all-natural ingredients in one formula. All you need to do is mix two teaspoons (about 5g) and stir into your favorite health drink.*
Each whole ingredient in the blend contributes to your overall energy, wellness, and performance.*
Microbiome Plus+ Essential Greens Superfood tastes fruity and herbal, so it's perfect for mixing into pure apple juice, other natural juices, smoothies, or plant milk.*
The Cleanest Nutrients from Nature to Boost Your Energy
No sugars, artificial sweeteners, dairy, or gluten—just pure plant-based power to boost your energy levels.*
Essential Greens Superfood is packed with 100% natural, easily digestible nutrients from plants.*
Unlike caffeine, sugar, or energy drinks, Essential Greens Superfood helps you maintain and build up healthy energy levels without the crash. The vitamins and minerals in Essential Greens Superfood nourish your nerves and fuel your brain to help support focus and clarity.*
Antioxidants and immune-supportive botanicals in the blend help strengthen your immune system, while adaptogenic herbs help you combat everyday stress and foster resilience.* 
When to Use/How to Use
Adults mix two (2) teaspoons into 8 oz. of apple juice or other favorite liquid or use as directed by a health care professional. 
Science
Backed by Science
Getting all five servings of all your vital nutrients each day from food alone is not always possible. Green powders are a rich source of an array of antioxidants and essential nutrients.*
Taking green powders is backed by science:*
In one study of 10 healthy people, a greens powder taken daily helped lower oxidative stress (

study

).*

In a 90-day study of 40 people with high blood pressure, a greens powder taken daily contributed to normal blood pressure (

study

).*

A systematic review of clinical trials concluded that fruit and vegetable powders help support general health and have the potential to reduce the risk of many chronic diseases (incl. heart disease, diabetes, respiratory diseases, and others) along with lifestyle and diet changes (

study

)*
Our Essential Greens Superfood powder is the easiest way to get your daily greens and meet your nutrition needs.* 
Benefits
Gut health
Microbiome Plus+ Essential Greens Superfood empowers the gut microbiome for whole-body health. The path to better health starts in the gut, and our blend contains botanicals and prebiotics that feed your good gut bacteria and encourage gut microbiome balance.*
Energy levels and nutrients 
Essential Greens Superfood powder contains antioxidants, herbs, and nutrients that can help boost your energy levels and stress resilience.*
Our blend packs the full spectrum of key nutrients like vitamin B12, B1, B2, B3, B6, folate, vitamin D, vitamin C, beta carotene, iron, magnesium, vitamin K, and amino acids. It's also rich in antioxidants that contribute to wellness and reduce fatigue.* 
Blood sugar balance
Several botanical extracts and active ingredients in our Essential Greens Superfood contribute to normal blood sugar levels.*
The Great Grains Blend, chlorella, and wheat grass in our blend are especially supportive of healthy blood sugar levels.*
Heart health 
Essential Greens Superfood contains a heart-healthy blend of prebiotic fiber, antioxidants, and nutrients that aid heart and blood vessel health and support normal blood cholesterol and triglyceride levels.*
Many compounds in our blend have been through clinical studies for heart health support.*
Liver health
Powerful grasses and greens in our blend, along with liver-supportive herbs like milk thistle and parsley, support natural liver detox and optimal liver health.*
Several antioxidants and active compounds present in the blend have been researched for protecting the liver from oxidative damage.*
Fruit and vegetable powders may help prevent or offset free radical damage caused by environmental toxins or unhealthy lifestyle factors.*
Immune health
Microbiome Plus+ Essential Greens Superfood is a good source of vitamin C and vitamin D, which support a strong immune system. It also includes naturally sourced herbs that promote healthy detoxification and overall immune balance.*
Men's and women's health 
The plant-based nutrients concentrated in Essential Greens Superfood are otherwise hard to source from plants and diet alone. The blend contains essential nutrients and antioxidants that are critical to both men's and women's health.*
Healthy nutrient status and overall antioxidant capacity are key factors in fertility and reproductive health.*
Healthy aging 
Powerful antioxidants in Microbiome Plus+ Essential Greens help combat oxidative stress linked with aging. They can give you a boost in vitamins, minerals, and enzymes that contribute to an active lifestyle and good health into old age.*
Clean and tested formula
Microbiome Plus+ is a science-based brand. We are dedicated to producing only high-quality potent supplement blends. Product safety and quality are our top priorities. All our supplements are supported by rigorous scientific studies and formulated by experts.
Our all-natural Essential Greens Superfood formula is carefully sourced and expertly formulated in a cGMP-registered facility in the United States. You can rest assured we manufacture our blend without any sugars, artificial sweeteners, dairy, artificial flavors, or fillers. All our products are third-party tested for purity and quality. 
FAQs
When should I take Essential Greens Superfood powder?
You can consume Essential Greens at any time of the day and still get great results. However, it may be optimal to have Essential Greens in the morning to experience that boost of energy that can fuel your day.*
Your Essential Greens smoothie or natural juice can also serve as a healthy alternative to coffee, as it's high in compounds that have energizing properties. Another major benefit is that you won't crash but feel calm and balanced throughout the day.*
Why is silica listed as an ingredient?
A silica pack is added to the packaging for freshness. It's not part of our Essential Greens Superfood blend, which is 100% natural. 
How do I store Essential Greens Superfood?
Store in a cool, dry place and away from direct light. Keep out of reach of children. Do not use if the safety seal is damaged or missing.
Who should not use this product?
Consult your physician before using this product if you are pregnant or nursing, taking medications, or have a medical condition. Discontinue use two weeks before surgery.
*These statements have not been evaluated by the Food and Drug Administration. This product is not intended to diagnose, treat, cure or prevent any disease. Keep out of reach of children. Consult a physician if you are pregnant or nursing; have or had a medical condition, or are taking prescription drugs. If you have any adverse effects to the product, stop taking the product immediately and consult your physician.
YOU MAY ALSO LIKE
Heart Health Probiotic

Regular price

Sale price

$42.99

Unit price

per

Full-Spectrum Wellness Boost

Regular price

Sale price

$24.99

Unit price

per

Superior Gut Health

Regular price

Sale price

$44.99

Unit price

per