Triple Immune - Reishi, Shitake, Maitake ca
Full-Spectrum Wellness Boost
Provides all-around immune support, backed by research and traditional use†
Contributes to good gut health and digestion
Helps balance the gut microbiome
100% organic and lab-tested, contains zero fillers
60 Capsules($0.42/Capsule)
24.99
Share
View full details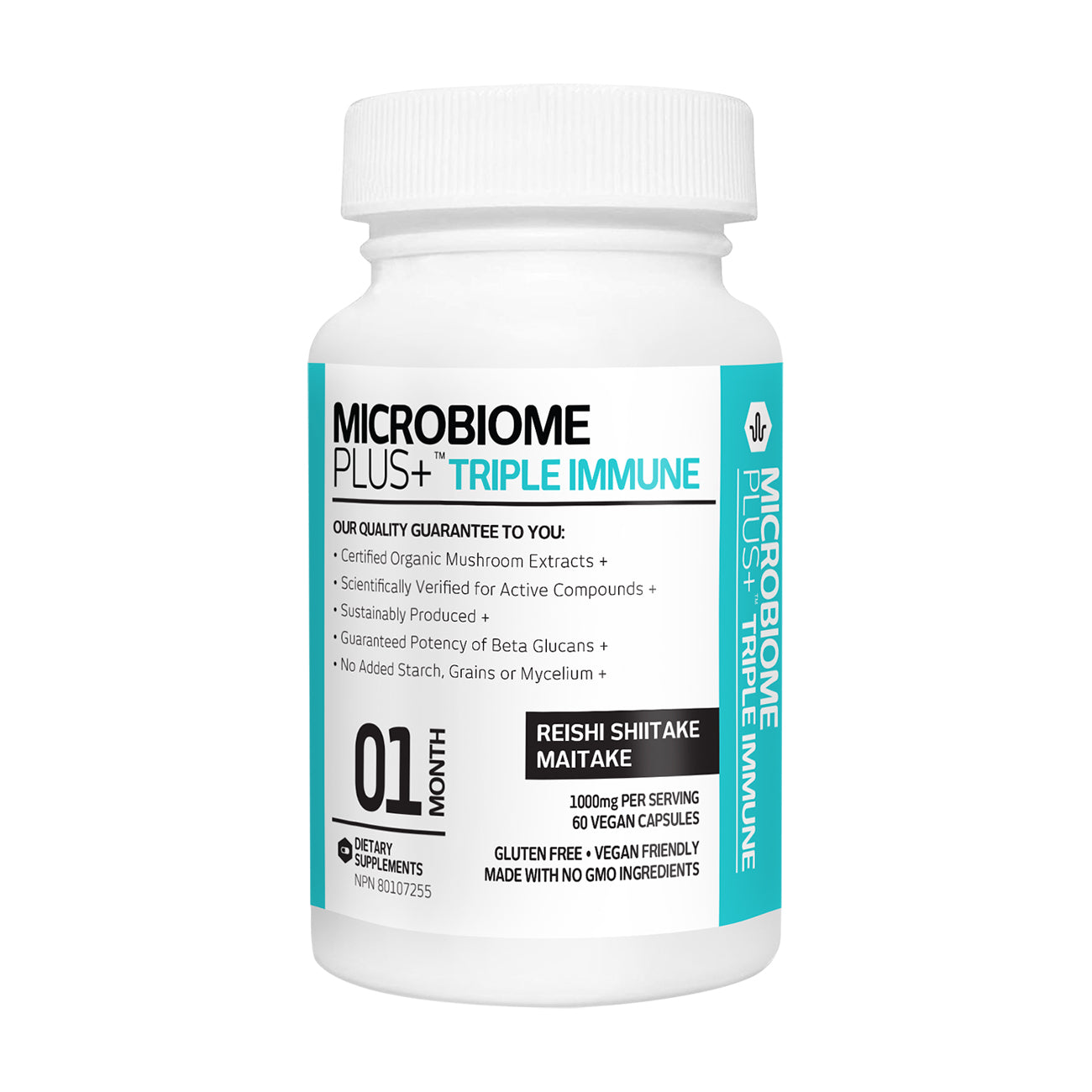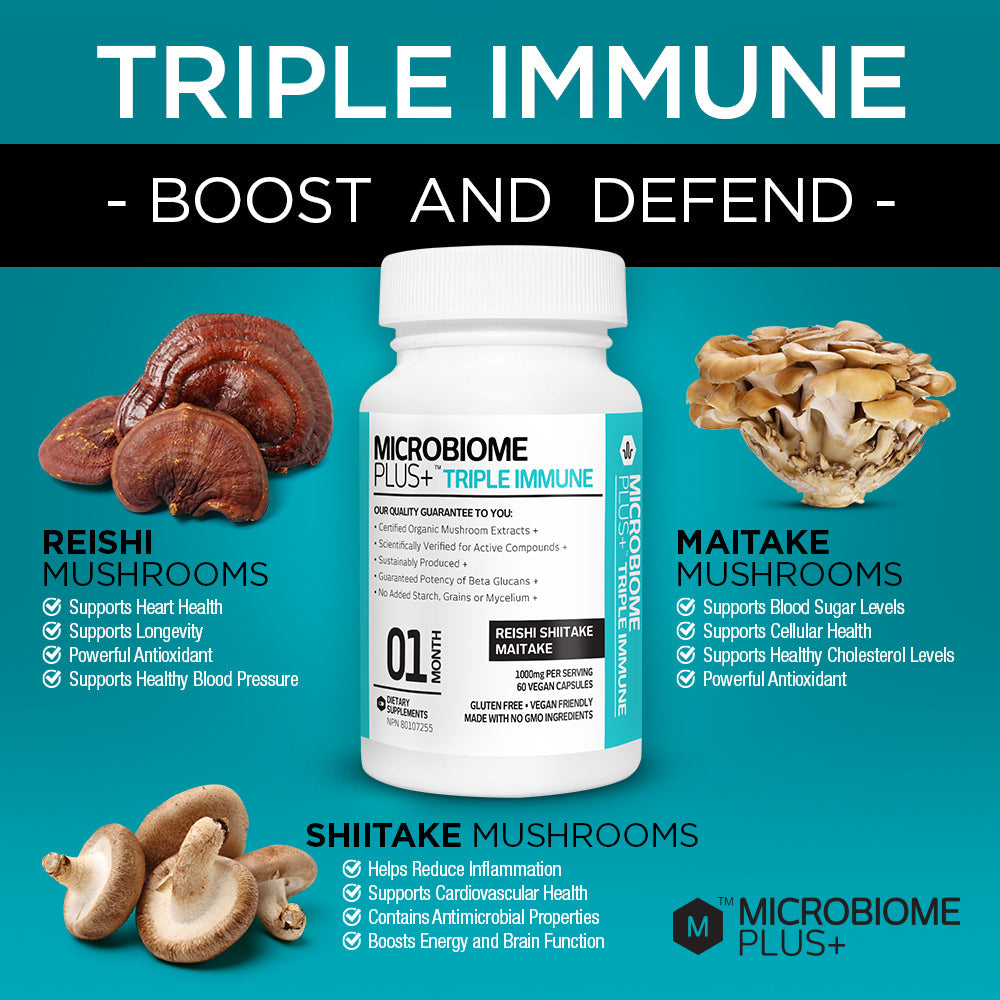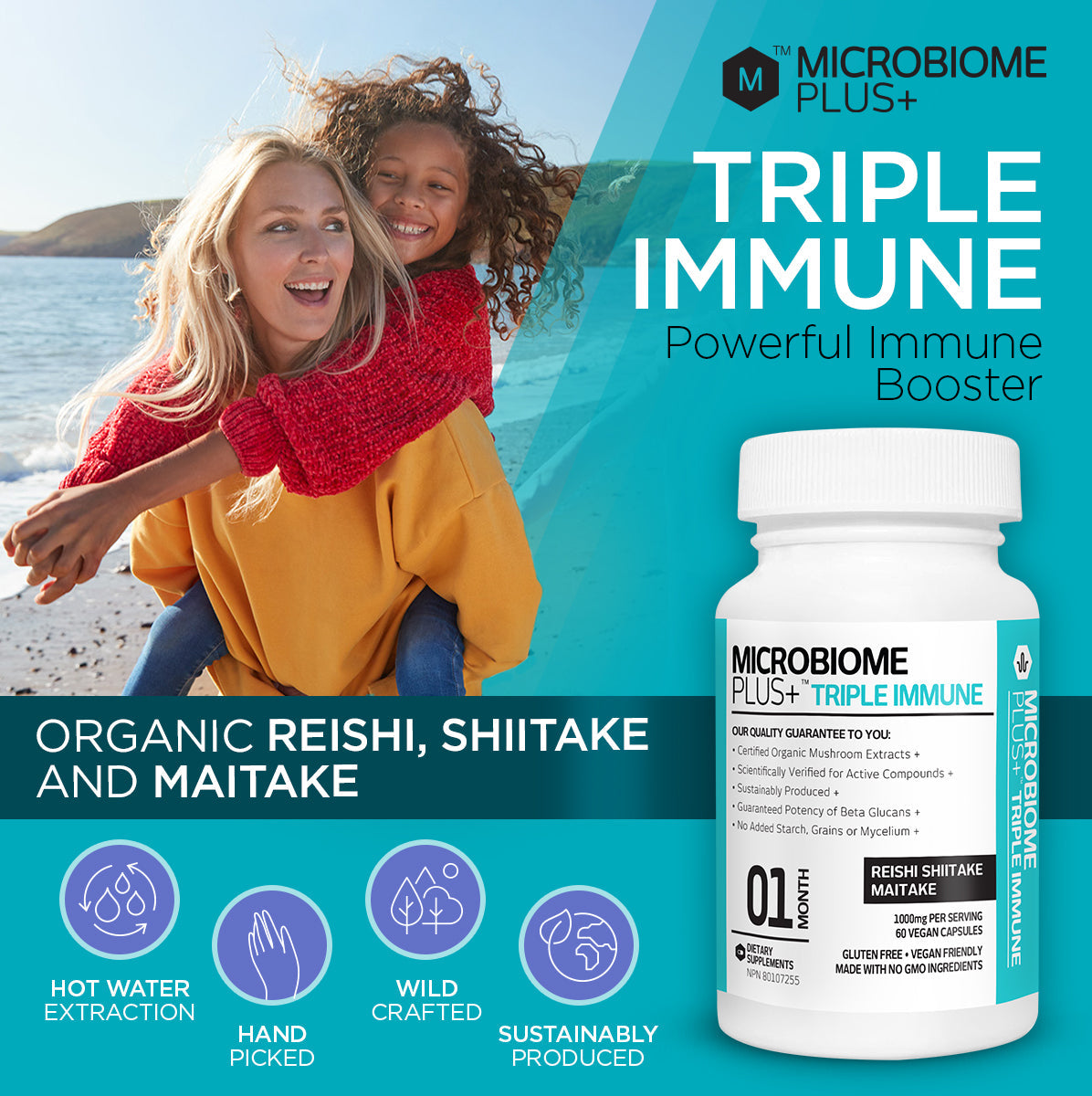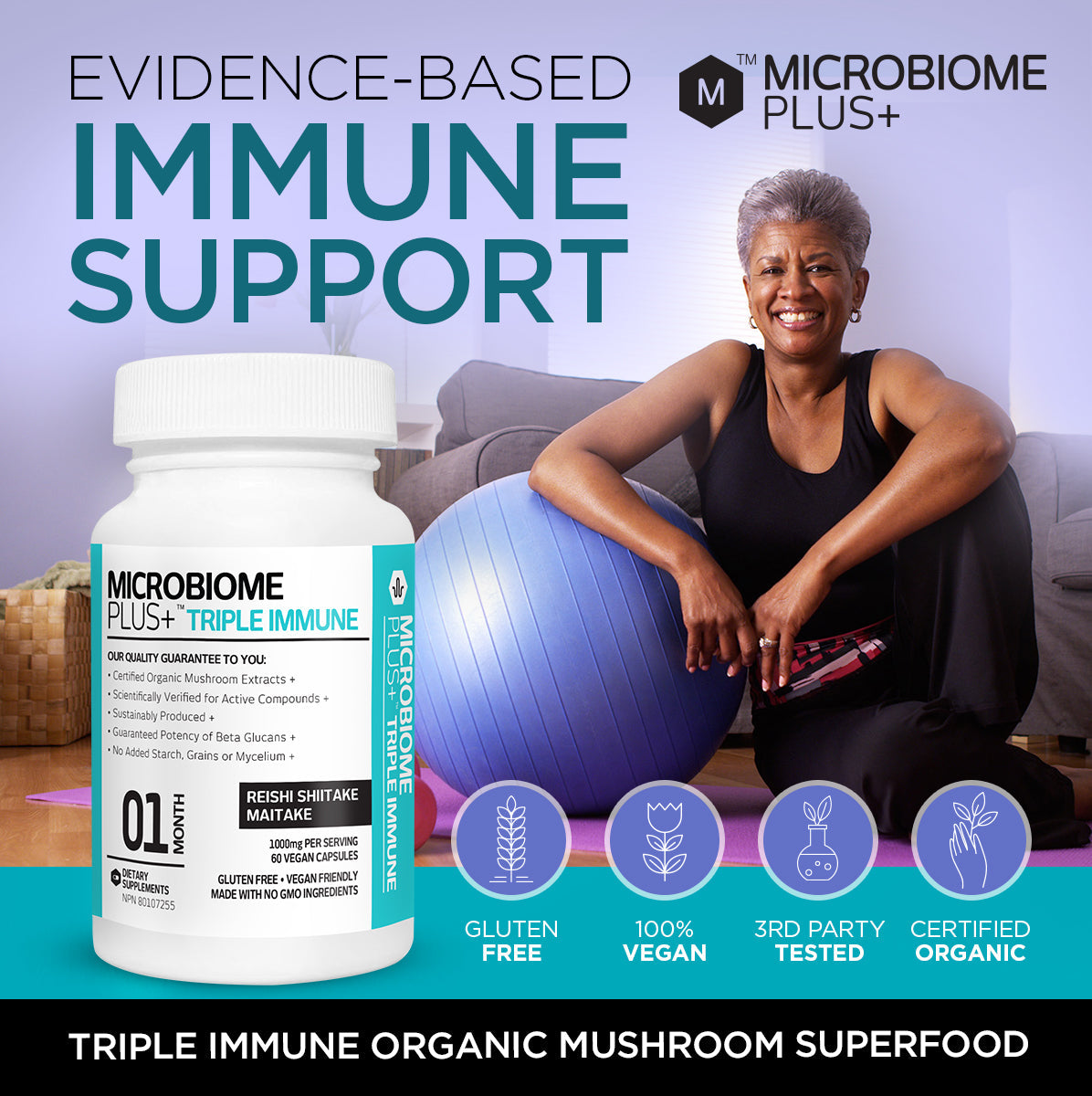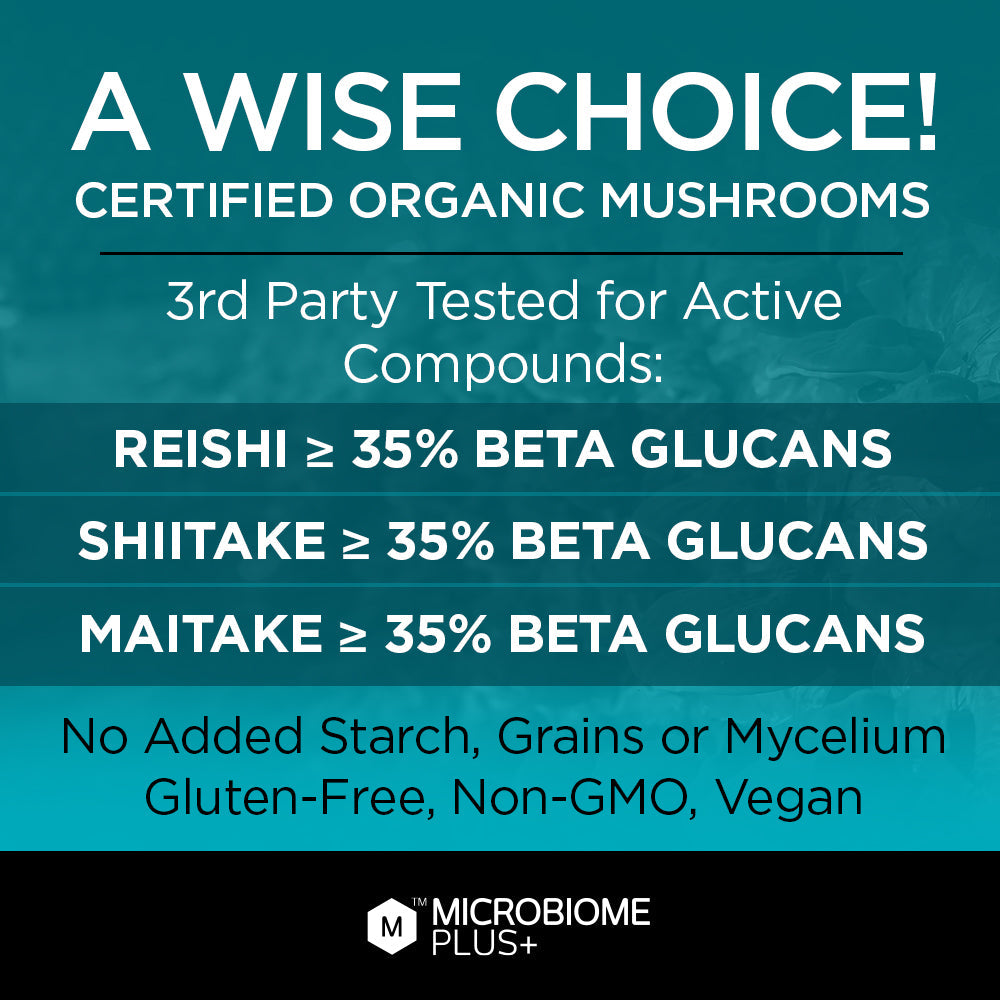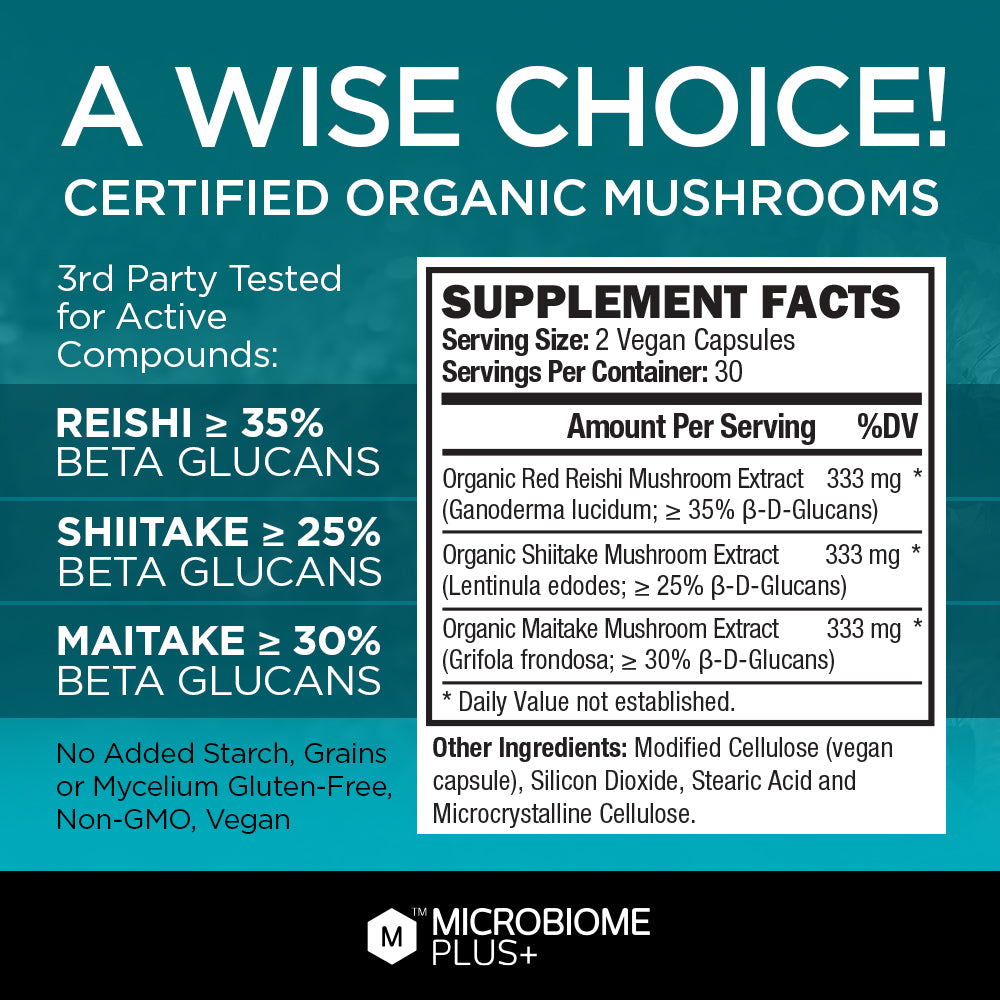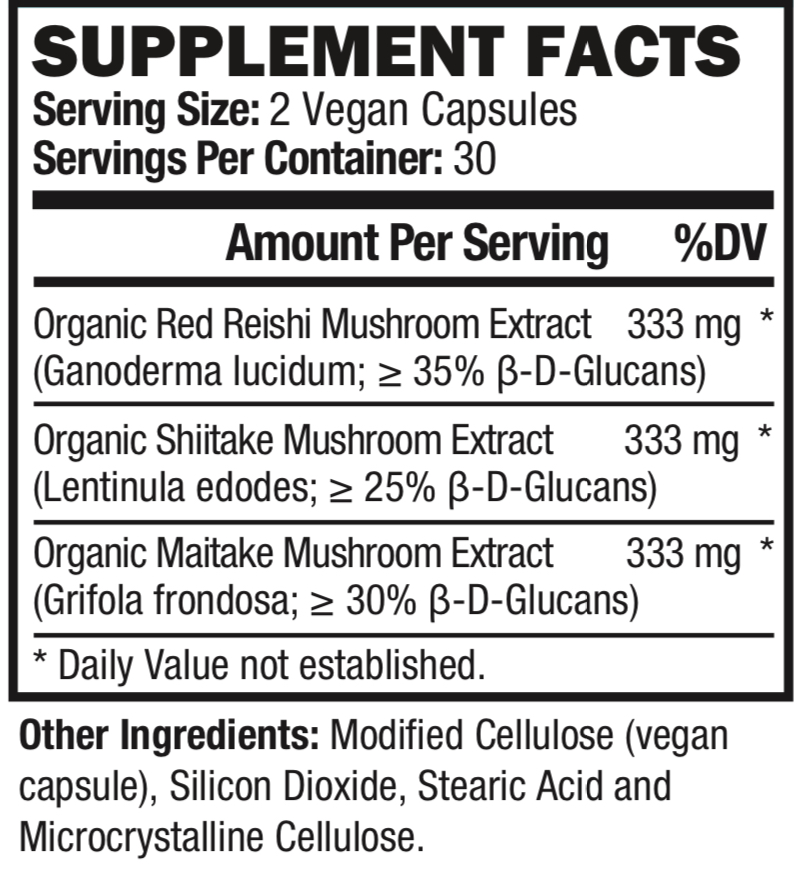 A mushroom blend for when both your immune system and gut need more
†
Microbiome Plus+ Triple Immune contains three carefully chosen medicinal mushrooms that support both gut and immune system health: reishi, shiitake, and maitake.†  
Did you know that 70% of your immune system resides in your gut? Not only that, but your gut microbiome is home to ten trillion microorganisms that can have a huge impact on your overall health and well-being.†
The medicinal mushrooms in Microbiome Plus+ Triple Immune are a great choice to support gut health naturally. Our team of scientists selected the top three mushrooms for gastrointestinal and immune health based on data from decades of scientific research.†
Full-spectrum wellness boost
†
Our blend is perfect for people who are seeking 360° immune and gut support.†
Most other products target just one aspect of the immune system or gut health. Medicinal mushrooms in Triple Immune provide a full-spectrum wellness boost. They contribute to good immune function, gut health, digestion, gut microbiome balance, nutrient absorption, nutrient production (vitamins B and K), energy levels, detox, and brain health.†
A healthy gut microbiome keeps your gut lining strong, making it impermeable to any potentially harmful substances in your digestive system. Poor gut barrier integrity has been linked with "leaky gut," gut microbiome imbalances, poor immunity, and many other health problems.† 
The medicinal mushrooms in Triple Immune also have a rich history of traditional use in Eastern medicine as superfoods, general health tonics, and adaptogens.†  
Experience the power of mushroom synergy
†
Mushrooms in Microbiome Plus+ Triple Immune act in synergy to offer you more benefits than each medicinal mushroom by itself.†  
Triple Immune Medicinal Mushroom Benefits Chart† 
| | | | |
| --- | --- | --- | --- |
| | Reishi | Shiitake | Maitake |
| Immune support | ✔ | ✔ | ✔ |
| Gut health & digestion | ✔ | ✔ | ✔ |
| Cardiovascular health | ✔ | ✔ | ✔ |
| Stress resilience  | ✔ | | ✔ |
| Energy balance | ✔ | | ✔ |
| Detox & liver health  | ✔ | ✔ | |
| Brain & memory support | ✔ | | |
| Metabolic support | | ✔ | |
| Antioxidant defense | ✔ | ✔ | |
| Antihistamine support | ✔ | | |
| Weight & blood sugar balance | | | ✔ |
Mushroom prebiotics balance your gut microbiome
†
Medicinal mushrooms in Triple Immune are an untapped source of powerful prebiotics, the best food for your good gut bacteria.†  
Mushrooms such as reishi, shiitake, and maitake boast gut health-supporting active compounds and nutrients. They are rich in prebiotics—complex carbohydrates like chitin, hemicellulose, beta and alpha glucans, mannans, xylans, and galactans.† 
Studies indicate that mushroom prebiotics may be more readily available and better researched than many other prebiotic sources like seaweed.† 
Mushroom prebiotics in our blend help boost the number and diversity of your good gut bacteria, supporting gut microbiome and whole-body health. They also make it harder for the bad gut bacteria to survive, building the resilience of your gut immune system.† 
Each mushroom in our blend works on some aspect of your gut microbiome health, according to studies:†  
Shiitake mushrooms are like a metabolic superfood for your gut—they may increase metabolism- and cholesterol-balancing probiotic bacteria.

†

  

Reishi mushrooms support general gut microbiome balance—they may increase

Lactobacillus

and

Bifidobacteria

, the main probiotic bacteria in your gut.

†

  

Maitake mushrooms may boost gut bacteria that help maintain normal blood sugar levels and body weight.

†

 
Supporting your gut health and digestion can feel good
†
Triple Immune from Microbiome Plus+ contains prebiotic fiber and antioxidants essential to overall gut health and digestion.†   
Getting your gut health under control doesn't have to be hard. Our organic mushroom blend gives you an opportunity to add powerful nutrients and concentrated active compounds from mushrooms into your daily regimen.† 
High-quality, hand-crafted medical mushrooms can support you on your journey to better digestion and a healthier lifestyle.† 
We use pure, potent extracts packed into an all-natural capsule. It's as simple as taking a couple of capsules per day to get the benefits of a diet that incorporates nutrient-dense medicinal mushrooms into every meal.† 
And while taking mushroom pills can't replace a wholesome diet, studies suggest that medicinal mushrooms like reishi may help you stay healthy even if you slack on some days. Reishi may help support a normal anti-inflammatory, fat-burning response on a diet higher in fat.† 
The main active compounds in our mushroom blend are immune- and gut-supportive beta-glucans and antioxidant phenolics. Reishi, shiitake, and maitake mushrooms also contain essential amino acids, minerals like calcium, potassium, magnesium, iron, and zinc, and vitamin D2.† 
Our blend is also IBS safe. Mushrooms in Triple Immune are low in FODMAPs (fermentable oligosaccharides, disaccharides, monosaccharides, and polyols), which are a common trigger for IBS.† 
Established, broad-spectrum immune support
†
Triple Immune from Microbiome Plus+ contains the highest level of immune-supportive beta-glucans from any mushroom product on the market. Beta-glucans are the most important immune-balancing compounds in medicinal mushrooms.† 
Reishi, shiitake, and maitake mushroom extracts in Triple Immune support both the innate and adaptive immune systems. This helps your body recognize any potential threats (like viral, bacterial, and yeast infections) and get better at fighting them off each time.† 
Shiitake contains some of the best researched active compounds for immune support. Studies in healthy young adults suggest that taking shiitake daily supports immunity. This also helps the body fight off viral, bacterial, and yeast infections.†  
Guard yourself against stress and feel energized
†
Antioxidants from medicinal mushrooms in Triple Immune help defend your body against free radicals and stress, supporting your overall wellness and energy levels.†  
Stress is bad for your gut, while gut problems make it harder to cope with stress. Sluggish digestion and gut microbiome dysbiosis may be linked to fatigue, poor focus, and high levels of stress.†
The combination of reishi's stress-balancing action, maitake's stress-busting activity, and shiitake's antioxidants help keep you energized and calm throughout the day.†  
In the long run, medicinal mushrooms like reishi, shiitake, and maitake may support stress resilience, cognitive function, nerve repair, and cellular energy balance.† 
What's special about our mushroom blend?
Microbiome Plus+ takes pride in producing the most potent immune-supportive mushroom extract blend on the market. And unlike other companies, we guarantee it.†  
While some companies sell dried mushroom powder, not the extract, we know that only hot water extraction ensures proper mushroom activation and high levels of beneficial compounds.† 
We use hot water extraction, the cleanest mushroom extraction method that ensures superior levels of beta-glucans (the main active compounds).† 
Whereas most mushroom extracts contain 10-20% beta-glucans, our extract is standardized to at least 25% beta-glucans in shiitake, 30% in maitake, and 35% in reishi.†  
In line with the research, our extract is made from mushroom whole fruiting bodies—the visible part of the mushrooms.†   
Yet, many companies sell "mycelium on grain," the underground part of the mushroom. Mushroom mycelium is often cultivated and mass-produced, making it a cheap bulk ingredient. It typically contains no or very low levels of beneficial active compounds.† 
How do I know I'm getting a quality mushroom product?
Product safety and quality are our top priorities.
Our Triple Immune (Reishi, Shiitake, Maitake) supplement undergoes rigorous quality control every step of the way.
It all starts with sourcing sustainable, wild, organic mushrooms. Our mushrooms grow in their natural habitat—they're not produced in the lab. We hand-pick our mushrooms, adding zero fillers and preservatives. 
Each batch of our Triple Immune is third-party tested for active compounds, fillers, heavy metals, pesticides, and microbial contamination. Finally, our lion's mane is packaged in the USA, in our FDA-registered, NSF-, SQF-, GMP-certified facility.
You can rest assured that you're only getting 100% real, wild mushrooms in every bottle.
Triple Immune Capsules from Microbiome Plus+
✔ Pure: we do not add any mycelium, starch, grains, or fillers; Microbiome Plus+ products are also gluten-free, non-GMO, vegan, kosher, dairy-free, caffeine-free, and nut-free
✔ Clean: Microbiome Plus+ Triple Immune contains hot water extracts made from organic mushroom fruiting bodies only, packed into an all-natural plant-based capsule
✔ Potent: unlike other gut and immune mushroom supplements, each mushroom that goes into our blend is standardized to exceptionally high beta-glucan levels (shiitake >25%, maitake >30%, and reishi >35%), verified by 3rd party laboratories
✔ Science-based: 1000 mg extract per serving (2 caps); 60 capsules per bottle; our formulation and dosage are backed by the latest research findings
✔ Trusted: GMP-certified, FDA-registered facility
How to Take
Take 2 capsules one to two times per day (1000-2000 mg/day) with meals.
Ingredients
Serving Size: 2 capsules
Servings per Container: 30
Organic Mushroom Blend   Amount Per Serving  
Maitake Mushroom Extract*± (Grifola frondosa)     333 mg
Beta-D-glucans     >30%
Reishi Mushroom Extract*± (Ganoderma lingzhi)     333 mg
Beta-D-glucans     >35%
Shiitake Mushroom Extract*± (Lentinula edodes)     333 mg
Beta-D-glucans     >25%
Other ingredients: Modified cellulose (vegetable capsule), silicon dioxide, stearic acid, and microcrystalline cellulose
* = certified organic     
± = hot water extract from the mushroom fruiting body
Percent of daily value not established.
†These statements have not been evaluated by the Food and Drug Administration. This product is not intended to diagnose, treat, cure or prevent any disease.
This product is not intended to diagnose, treat, cure, or prevent any disease. Keep out of reach of children. Consult a physician if you are pregnant or nursing; have or had a medical condition, or are taking prescription drugs. If you have any adverse effects to the product, stop taking the product immediately and consult your physician.
✔ 30 day supply in one bottle
✔ FREE OF ALLERGENS: Our probiotic doesn't contain gluten, soy, corn, milk, egg, wheat, peanuts, shellfish, or preservatives. 

✔ VEGAN and NON-GMO, from renewable and sustainable sources.
✔ MADE IN USA, manufactured in facilities following Good Manufacturing Practice (GMP) standards. 
✔ THIRD-PARTY TESTED: Our award-winning probiotic supplements are routinely third-party tested for potency, heavy metals, and micros. When you purchase our products, you know you're getting a safe, effective, clean formulation
YOU MAY ALSO LIKE
Heart Health Probiotic

Regular price

Sale price

$42.99

Unit price

per

Full-Spectrum Wellness Boost

Regular price

Sale price

$24.99

Unit price

per

Superior Gut Health

Regular price

Sale price

$44.99

Unit price

per